Flexible RF Coaxial Cable
Flexible RF Coax Cable and Connectors
Advanced Technical Materials (ATM) manufactures high performance microwave coax RF cable that utilizes only the very best materials, incorporating proprietary manufacturing methods, which yield very low Insertion Loss characteristics, high power capability and is Amplitude and Phase Stable on a level not readily available in the microwave industry.
ATM RF Cables have five different sizes of coaxial cable designed to operate from DC-60 GHz. We can also manufacture custom RF cable assemblies as required. Please call us and discuss your custom RF cable requirements with one of our design engineers.
Superior Coax RF Cables
ATM utilizes a solid, silver plated copper center conductor and Expanded PTFE dielectric material which allows for very low Insertion Loss and high power handling capability.
The outer conductor is a flat, silver plated copper foil wrapped helically around the dielectric and mechanically locked to the dielectric core to promote superior phase and amplitude stability, as well as, very low VSWR performance.
A silver plated copper, braided shield is then added to increase the axial tensile quality of the cable and further enhance RF leakage characteristics. The RF cable outer jacket is a tough, high temperature thermoplastic that can withstand temperatures from -65° to +200° Celsius.
All this adds up to a very superior microwave cable product that can meet the most demanding requirements. ATM cables meet military specifications for MIL-C-17 and MIL-DTL-87104. ATM connectors meet MIL-C-39012. This product can be sold in bulk raw coaxial cable form, or as fully guaranteed RF coaxial cable assemblies.
High Quality RF Cable Assemblies
ATM tests all coaxial cable and coax cable assemblies 100% for Impedance, Insertion Loss and VSWR. Additional coax RF cable electrical requirements can be fully tested and examined in our well equipped Quality Control Test Lab.
Custom RF Cable Assemblies
ATM can create custom coaxial cable assemblies to your challenging specifications. Our design engineers stand ready to assist you with your next RF cabling project by working with you to produce coaxial cable assemblies that will exceed your expectations. 
ATM works for our customers to provide great service, excellent pricing and fast deliveries, with the highest possible quality available in the microwave RF cable industry.
Give ATM your toughest interconnection requirements and let us show you how our custom RF cables can help you save money and solve your interconnect problems.
See Also:
Cable Assy Loss Calculations
Ka-Band:
Ka-Band Flexible Coax Cable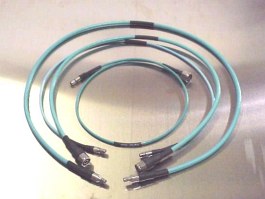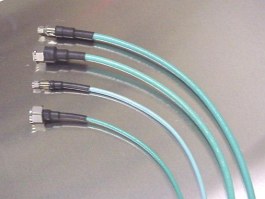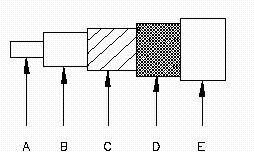 A) Silver Plated Copper Center Conductor
B) Expanded PTFE Dielectric Core
C) Silver Plated Copper Outer Conductor
D) Silver Plated Copper Outer Shield
E) FEP Outer Jacket, Black
Ordering Information
---
Raw RF Coax Cable Lengths
Design a Model # to fit your requirements using the
Cable Type reference table below for cable type. All Model numbers begin with CFR - Cable, unless otherwise specified, will be supplied in multiple lengths to make up quantity ordered. Click here for typical lengths of a given cable type. Minimum ordering length is 25 Ft.
Total quantity shipped will be +/-10% of total ordered.
Coax RF Cable Connector Specifications

---
Coaxial RF Cable Connectors

Coaxial Cable Connectors

Design a Model # to fit your requirements using the reference table below for connector types for your RF cable assembly.

                     *Example P/N:                           SM -210

*VALUES SHOWN ARE EXAMPLE. SUBSTITUTE DESIRED COMPONENTS FOR THOSE SHOWN HERE.
 Connector Types

= Indicates Availability 

Connector Type

Freq.




(GHz)

 

Connector Code

Atm Flexible Cable Type

100
135
160
210
300
500

1.85mm (V)

DC-60.0

MALE

VM

2.4mm

DC-50.0

MALE

2.4M

2.9mm (K)

DC-40.0

FEMALE

KF

 
 
MALE

KM

SMA

DC-18.0

FEMALE

SF

 
MALE

SM

SMA (HIGH FREQ.)

DC-26.5

FEMALE

SFH

 
 
MALE

SMH

SMA BULKHEAD

DC-18.0

FEMALE

SFB

 
MALE

SMB

SMA 90° (RT. ANGLE)

DC-18.0

FEMALE

SFR

 
MALE

SMR

TYPE-N

DC-18.0

FEMALE

NF

 
 
 
 
MALE

NM

DC-11.0

FEMALE

NF

 
 
 
 
 
MALE

NM

TYPE-N BULKHEAD

DC-18.0

FEMALE

NFB

 
 
 
 
MALE

NMB

TYPE-N 90° (RT. ANGLE)

DC-18.0

FEMALE

NFR

 
 
 
 
MALE

NMR

TNC

DC-18.0

FEMALE

TF

 
 
 
 
MALE

TM

TNC BULKHEAD

DC-18.0

FEMALE

TFB

 
 
 
 
MALE

TMB

TNC 90° (RT. ANGLE)

DC-18.0

FEMALE

TFR

 
 
 
 
MALE

TMR

SC

DC-11.0

FEMALE

SCF

 
 
 
 
MALE

SCM

SC 90° (RT. ANGLE)

DC-11.0

FEMALE

SCFR

 
 
 
 
MALE

SCMR

7/16"

DC-5.0

FEMALE

7/16F

 
 
 
 
MALE

7/16M

Connector Type
Connector Code
100
135
160
210
300
500
Cable Type
Connector / RF Cable Assembly Procedures

---
RF Cable Specifications For Coax Cables

---
Flexible Coaxial Cable Types
Cable Type:
100
135
160
210
300
500
Frequency Operation
(GHz)
DC - 62
DC - 43
DC - 35
DC - 30
DC - 18
DC - 11
Size O.D. (inches)
 0.110
0.145 
0.170
 0.220
 0.310
 0.500
Impedance (ohms)
 50
 50
50
 50
 50
 50
Dielectric Type
 SPTFE
EPTFE
SPTFE
EPTFE
EPTFE
PE
Capacitance (pF/ft)
29
 24
29
 24
 24
 23
Time Delay (ns/ft)
 1.4
 1.2
1.4
 1.2
 1.2
1.15
Velocity (%)
 70
 84
70
 84
 84
 85
RF Leakage
>100dB to
18 GHz
>100dB to
18 GHz
80dB to
40 GHz
>100dB to
18 GHz
>100dB to
18 GHz
>100dB to
18 GHz
>100dB to
11 GHz
Cut Off Frequency  (GHz) 
62
 43
35
30
 18
 11
Weight (lbs/100ft)
 1.9
 3
6.5
 7
 12.5
15
Min Bend Radius (in)
 0.25
 0.5
0.75
 1.0
2.0
3.0
Temp Range
(min/max °C)
 -65°/+200°
-65°/+200°
-65° to +200° C
 -65°/+200°
 -65°/+200°
-65°/+90° *

Please consult factory on specifications regarding phase stability of our RF cables.
* CF-500 cable is supplied with a black jacket.

Typical Assembly** VSWR:

(All applicable cable types)

**Spec. includes Connectors

| | |
| --- | --- |
| DC - 12 GHz: | 1.30: 1 |
| DC - 18 GHz | 1.35: 1 |
| DC - 26.5 GHz | 1.40 : 1 |
| DC - 40 GHz | 1.45 : 1 |
| DC - 50 GHz | 1.50 : 1 |
| DC - 60 GHz | 1.60 : 1 |

Total Cable Assembly Loss for 12" Assembly @ 10 GHz (dB)
0.75
0.48
0.61
0.46
0.39
0.35

Total Cable Assembly Loss: (dB)
Click link to calculate

CF100
CF135
CF160
CF210
CF300
CF500
Average Power
Cable Type:
100
135
160
210
300
500

@ Frequency:

Avg. Power (W)

1.0 GHz

375
540
625
800
1900
2500

2.0 GHz

250
400
435
600
1400
1600

3.0 GHz

150
300
330
475
1100
1200

6.0 GHz

100
210
225
320
650
700

12.0 GHz

70
160
175
210
520
600 to 11GHz

18.0 GHz

50
100
100
160
400