Catalog - ATM Microwave RF Components
ATM Short Form Microwave Components Catalog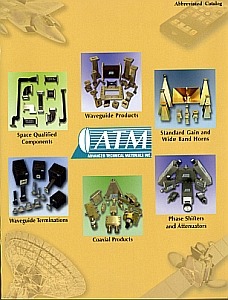 Every year ATM publishes a short form catalog featuring a variety of items ranging from our standard components, additional models of standard products, and new innovative product designs.
ATM's current short form catalog is in .PDF format, click on the links below or click here to view the whole catalog.
Individual pages from our catalog may be viewed below.
If you need custom components, or items not listed on these pages, please email us or call one of our engineers directly at 631-231-1700.
Please Note:

You will need Adobe Acrobat reader to view these PDF Catalog Page Files.  To download it, click the "Get Adobe Reader" button.
Coaxial Component Pages


Phase Shifters
Line Stretchers

CVA Miniature Models

High Power Variable Attenuators
DC-1 GHz Variable Attenuators
Rotary Step Attenuators

Power Dividers

Couplers
DC Blocks
Fixed Attenuators
Terminations

Switches
Isolator / Circulator
Noise Sources
Low Loss Cable

Waveguide Assemblies
Flexible Waveguide
Armored Flex