Narda-ATM Quality Control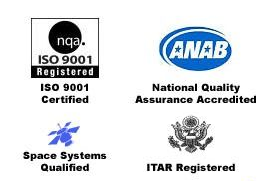 Narda-ATM (formerly Advanced Technical Materials Inc.) is an industry leader with a quality control system that is ISO certified, and customer audited. All components are fully tested and inspected mechanically and electronically prior to shipment. Narda-ATM is a "Certified" supplier to many large Prime Contractors.
 
Quality System
Narda-ATM is proud to announce certification of our ISO 9001:2015 Quality System in May 2010 by NQA and re-certified every three years. Narda-ATM was most recently re-certified by NQA in May 2017. We are also in conformance with MIL-I-45208A and MIL-Q-9858A.  All equipment is calibrated and traceable to the National Institute of Standards and Technology (NIST).
Certification
Narda-ATM has been customer audited and is compliant with PQA-005B and MIL-STD-45662 to manufacture Spacecraft Qualified Waveguide assemblies.
Outstanding On-Time Delivery Performance Record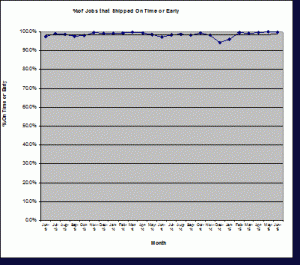 Narda-ATM Has A Great Record For On-Time Delivery.
We ship 98% of ALL orders early or on time.
On time critical deliveries such as Space Qualified Waveguide Components we ship 100% on time or early.
Last year we shipped over 4,000 Space Qualified Waveguide Component Orders to multiple Aerospace customers 100% on time.
ATM is extremely proud of our ontime performance record which is one of the best in the RF Component Industry.
In addition to counting on prompt delivery, our high quality standards means that your components will be correct the first time.
SSL Awards ATM Self Certified Status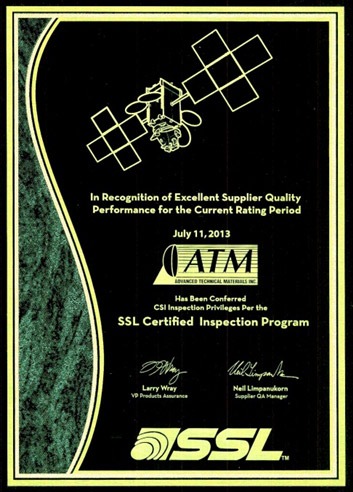 Our attention to quality control and ontime delivery have won numerous awards from our customers including SSL (formerly Loral). In 2012, Space Systems Loral (SSL) awarded ATM their supplier excellence award for our record of 100% ontime delivery, with a quality rate of 99.6%. In 2013, SSL (Space Systems Loral) recognized our high quality and superior performance by granting ATM the prestigious honor of Self Certification Status.  Of the 300 SSL space systems suppliers, only 4 are Self-Certified.  We are extremely proud that ATM is one of them.
Questions ?
Please feel free to contact us if you have any questions or require additional documentation about any of our certifications:
Narda-ATM Quality Control Department
Phone 631-231-1700
Email: componentsnm@nardamiteq.com