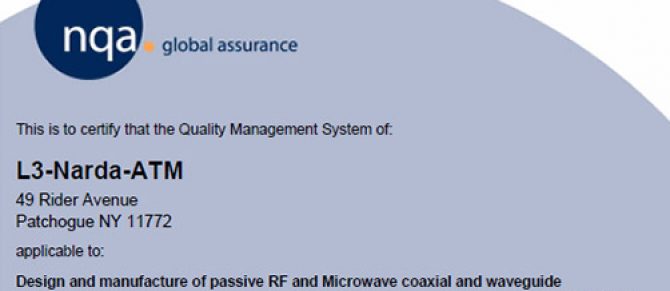 L3 Narda-ATM Re-Certified By NQA For ISO-9001:2008
L3 Narda-ATM is proud to have been re-certified once again by NQA for ISO-9001:2008 for our Quality Management Systems and procedures. We strive to provide excellent quality components and believe this is a reflection of the hard work of our employees to deliver for our customers.
Our Quality Management System has been certified for "Design and manufacture of passive RF and Microwave coaxial and waveguide components, assemblies and customer products serving commercial, industrial, military, and educational markets for satellites, telecommunications, TV/radio communications and radar applications" by NQA (National Quality Assurance, U.S.A.
Our quality systems have been continuously certified since May 2010
Here is a copy of our latest certification letter.  You can also view it as a PDF file.